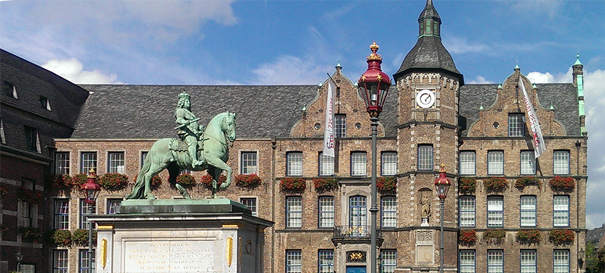 Düsseldorf is the capital city of the German state of North Rhine-Westphalia and a well-known financial & business center of Europe, It is just over 200km from Amsterdam, so I took the chance to visit the last time I was there.
The city has a very old history. When the Roman Empire was strengthening its position throughout Europe, a few Germanic tribes clung to marshy territory off the eastern banks of the Rhine River. This is the origin of Düsseldorf settlements. The first written mention of the town of Düsseldorf dates back to 1135. In 1288, Düsseldorf was granted the Town privileges. For more details on the history of Düsseldorf visit this link. For a full list of the city landmarks have a look at the official Düsseldorf web site.
So, I got up early in the morning and rode to Amsterdam Central railroad station (Amsterdam Centraal). Amsterdam Centraal is located at the end (or beginning) of Damrak Street. There are a lot of parking places for your bicycle. If you want to get a good feel for Amsterdam you should definitely commute by bike through the city while sightseeing. The only thing that could prevent you from cycling is a heavy rain, which is not unusual here. But the real Dutch ride their bikes even when it rains like cat and dogs.
There are great high-speed trains from ICE International (not as high speed as the Spanish ones though) going from Amsterdam to Düsseldorf every hour and it takes about two hours to get to Düsseldorf. It is better to have seats reserved (paid option when you buy your tickets) in order to avoid having to look for a free seat. If you don't have a seat reserved then you should look for a seat with a black screen above it (which means that it is not reserved) otherwise that screen shows the stop where the seat owner will come up. Also, don't forget to print your tickets. Loudspeakers were constantly telling everyone that iPhone, iPad, and laptop tickets are not accepted.
As a side note, I heard a very funny conversation between a train manager and a passenger. "Excuse me sir, is this my train? Have a look at my ticket, please." And the answer was, "No, this is not your train. It is mine." And after some silent pause "But. You are welcome on board for 2 hours
This is your seat. Have a great time!"
During your journey you will go through Utrecht (NH), Arnhem (NH), and Oberhausen (G), which actually also deserve some time for observing. The Amsterdam to Düsseldorf trip takes a little bit more than two hours. Many Moscow citizens spend this time commuting to their work every day. After you leave the train in Düsseldorf it will continue on Köln, Frankfurt, Mannheim, Karlsruhe, Basel. I'll have to visit them the next time I'm in the area!
I enjoyed breakfast baguettes and coffee in the train buffet (~6 EUROs). Lucky for me, more than a half of their menu was vegetarian. Combined with lovely views of Dutch and German countryside, green meadows, and cozy houses, it is a great way to start your day.
Düsseldorf train station is located in the city center. I wanted to spend my day the most effective way, so I rented a bike at the nearest bike shop. Having a bike in Düsseldorf allows you to experience the most of the city in one day. (Cost: ~15 EUROs). I recommend that you rent a bike in Düsseldorf at RADSTATION – Zukunftswerkstatt Düsseldorf (ZWD), Willi-Becker-Allee 8a. It is actually right at the train station building so you just leave the train station and pick your bike. There are even signs showing you the way to the bike rental. You have to put 50 EUROs deposit in cash, 10 EUROs per day, sign some papers and voila – you get a crappy bike (it seems they don't have others). But at the end of the day, the bike isn't for showing off – it's to help you travel about town more quickly.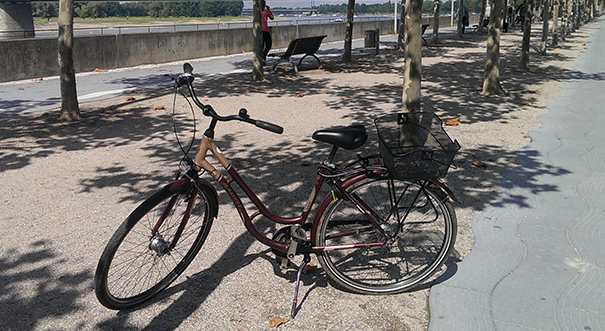 My travel itinerary included Malkasten park, Burgplatz, Marktplatz with a Town Hall, Konigsallee, Hofgarten, Rheingarten, Rheinpark Golzheim, Nordpark. Check this route on a map below. It takes about 4 hours with small stops and gives you the most opportunities for sightseeing.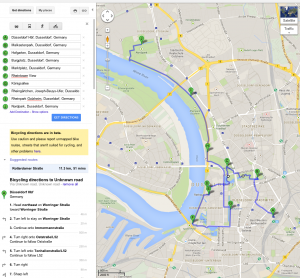 One thing you may be surprised to see right when you exit the central train station building is a man standing on an advertising column. There are nine of them around the city and they are so-called "pillar saints." It is a project of artist Christoph Pöggeler. Humans, removed from their daily routine and put on a pedestal, become noticeable as individuals again and refer to groups of society like children, businessmen, vagabonds, and strangers. They really attract your attention and add something unique to the city atmosphere.
There are huge parks in the city center, such as Hofgarten and Malkasten Park. You could spend a whole day there. There are yoga adepts doing their training, numerous weddings, cyclists, and runners in the parks. Sit under shadowy trees, walk through the nice alleys, feed ducks and stare at lakes and fountains. It was nice to have a look at Ratinger Gate near the exit from Hofgarten.
One of the main city landmarks is Altstadt (Old Town). It is a network of lovely medieval streets with a lot of bars and restaurants. You can find many good places to eat in Altstadt. The most interesting feature for me was a monument of Jan Wellem in front of the city hall. It is a kind of city symbol and is found on many postcards. Altstadt was almost completely destroyed during World War II and was rebuilt according to historic plans on its foundation walls in order to resemble the original buildings as much as possible.
At the old town limits next to the Rhine is the Burgplatz (Castle-Square). One upon a time, this was the site of the castle of the Earls of Berg. Later the castle was reconstructed to a baroque palace, which burned down in 1872. Today, only a tower remains. The coffee-shop in the towers top offers a picturesque view onto the Rhine and the ships passing by.
A monument celebrating the 700th anniversary of the foundation of Düsseldorf sits at Burgplatz, an artwork by Bert Gerresheim. It is a kaleidoscope of local history, starting on left side with the cruel battle of Worringen, the signing of foundation documents by the Earl of Berg in the middle, and several scenes on the right hand side including four popes. Among them is Nikolaus IV raising St. Lambertus Church to a canon monastery. A market scene is shown, but also trade goods of Düsseldorf.
The monument is full of symbols. You should go nearby and take account of details. You also should go some steps back. Mind the men following the apocalyptic horse riders on left side. Their arms form the number 1288, the year of the battle of Worringen. During the battle, the Earl of Berg, Adolf V, fought against the archbishop of Cologne, Sigfried of Westerburg. The battle ended with the victory of the earl and the citizens. This led to granting town privileges to Düsseldorf. On the right hand of the monument is a little river, named the northern Düssel. It gave the city its name (Düsseldorf means village at Düssel).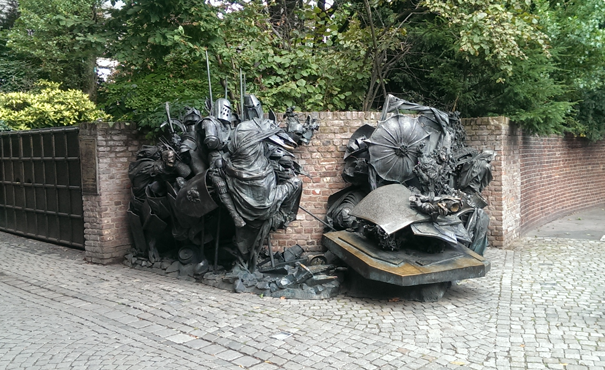 Monument of grant privileges of Düsseldorf
When you finish with Altstadt, it would be a good idea to get to the embankment promenade with a great view over the Rhine river. There are a lot of interesting buildings and it's worth the time to stop for some views. Don't miss the Pegeluhr clock on the riverbank, which also shows the current water level. I spent some time getting to the Oberkasseler Bridge. From the middle of the bridge there is a very impressive view on the Altstadt and the promenade of Düsseldorf.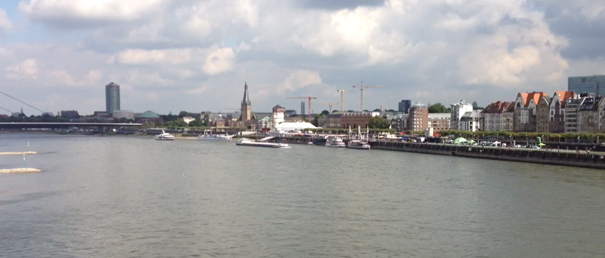 I think Düsseldorf has one of the longest river promenades I've seen and it is in very good condition (dedicated bike lanes, picturesque staircases). All the way from the Rhine Tower to Nordpark you ride through the series of parks on the promenade. It seems like one endless park zone. Every time I was making a stop for photo and video, I was overwhelmed by the Rhine river and the nice German houses on the opposite side.
Finally I reached Nordpark and was impressed by the park's spacious walking roads and the number of squirrels crossing my way and giving me time to photo them. Nordpark is not crowded. Very often you are practically alone and could almost feel unity with a nature. Spend some time on benches, view the Japanese garden, stare at massive fountains. Don't forget to think about something very important and global. This park with it spacious landscape seems to be designed for global thoughts. Also, there is not only a park, but a great number of luxury houses at the park's edge. This is probably a spot where the most successful Düsseldorfers live.
As a side note, I'd like to remind everyone that it is very important to stick to the traffic rules in Germany. Germans are very strict with these kinds of issues, especially compared to the relaxed Dutch. Don't drive on the left side even if you are British, don't drive through pedestrian only areas (just walk with your bike), and don't use your cell phones while driving.
When I returned to Amsterdam from Düsseldorf I spent an hour in a public library. But it's worth a separate post, so please keep in touch and subscribe to this blog if you haven't already did so!
Here is my short video of this journey, which I prepared using the free Together service. {TODO put an embedded video album player}